Nib Guide
Our pens normally ship with generic IPG nibs as standard (IPG means Iridium Plating Germany, but does not mean the nib is German made). If the new pen is going to be used on a regular basis, we highly recommend a nib upgrade. Upgraded nibs allow for a smoother and better flowing writing experience, and there are a wide range of options available.
Bock Nibs

We can upgrade our pens with world leading Bock Nibs, in a number of different finishes such as 23 kt gold plating, bi-colour and polished steel. We can also fit solid titanium and solid 18 kt gold nibs, along with calligraphy nibs on request. The following table shows the various colour options:






23 kt Gold Plate


Bi-Colour

23 kt Gold Plate & Polished Steel


Polished Steel

All nibs also come in a range of different stroke widths, including Extra Fine, Fine, Medium and Broad.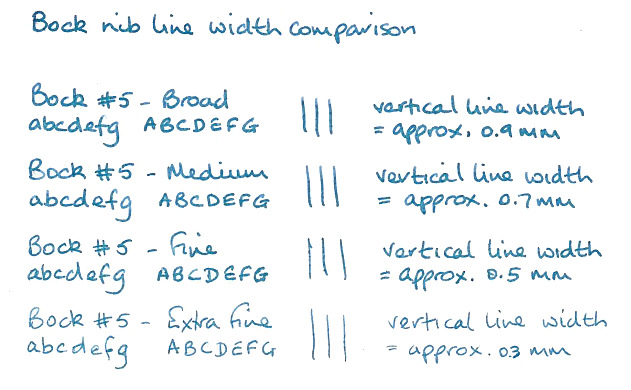 JoWo Nibs
We also supply JoWo nibs as a upgrade option. JoWo nibs are another high quality, German made nib. They tend to be a little stiffer than Bocks, but have excellent ink flow and the nib is equally as smooth. JoWos are available in a wider range of finishes and designs, including:
Polished Steel, two-tone, gold (plated), rose gold (plated), black Ruthenium (plated), Two Tone Rhodium/Black Ruthenium (plated), rhodium (plated)
Coloured (standard steel nib with lacquered finish): Black, Blue, Green, Purple, Red

Arrow
14K and 18K Solid Gold
Key shaped or heart shaped breather holes
Alongside the above options, there are two other very significant options only available on JoWo nibs; custom regrinds and initials engraving. For Regrinds a wide range can be offered including:
Obliques
Italics
Cursive Italics
Stubs
Fudes etc.
For engraving, we can have the JoWo nibs engraved with 2 initials of your choice.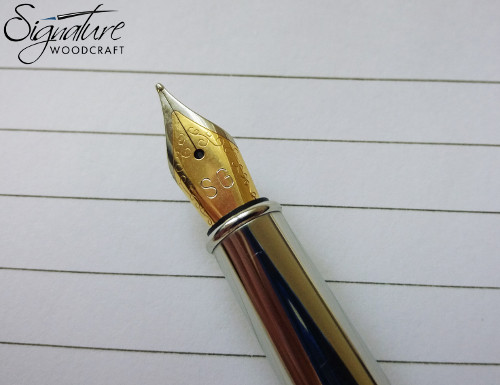 JoWo Engraved Nib

As the options for JoWos are so wide and varied, we price these individually according to your custom nib requirements. Feel free to contact us to enquire about pricing, and we will be delighted to provide the upgrade with your new pen.

Top